RECOMMENDED TEAS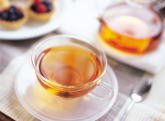 COMING SOON!!


*Darjeeling Secondflash     1 POT  /  \  972
   【 JUNPANA 】          50 g  /  \1,836
                 Leaves for1 pot  / \ 250 

      Second Flush's tea picking is from the beginning of May to the beginning of July,
      that period is called Quality season, which is in season for the tea.
      
      Second Flash's tea is the best leaves for Black tea and tea with milk.


  【 JUNPANA 】
  JUNPANA is the tea field name of Darjeeling in Indea.
  It lies on the hight of 1065 to 1600 meter above sea level, and the tea field spreads
  steep area between the mountain in Darjeeling.
  Royal family like JUNPANA very well, so it is distinguished tea called Royal tea.


EVENT

Now, we are preparing...
Please wait a momemt.


---